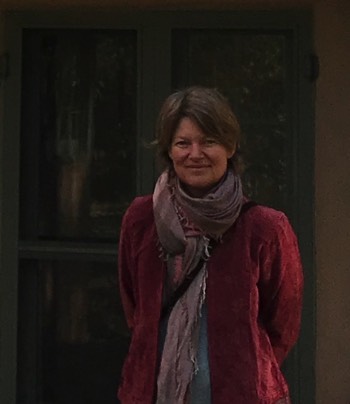 Jane Isakson
Born in Alberta, resident of Whitehorse Yukon since 1996
About the Artist
Sometimes we get to where we are going in roundabout ways. I always wanted to be an artist of some sort, but art school after high school was too big of a leap. Instead, I studied Norwegian language and literature at Camrose Lutheran College, now Augustana University, where I was also sidetracked with the sport of Biathlon. After almost a decade on the Canadian National Biathlon team and participating in two Winter Olympics (1992 and 1994), I decided to pursue the 'real' dream. In 1998 I completed a Fine Arts Degree at the University of Alberta. Settling in the Yukon Territory, I have found that both the outdoor activities I enjoy locally and other journeys further afield take me into environments that inspire my work.

Artist statement
My art practice is inspired by nature. Whether it is landscape or abstract painting, it is a search for symbol and meaning within the workings of nature that leads me to the act of observation and of painting.
Although I am attracted to and paint scenes of natural beauty, nature and the landscape are more than just scenery. All knowledge and discovery starts with observation from nature; all resources are derived from nature - it provides, reveals, inspires and gives us an opportunity to discover and understand our place in the world in a very fundamental way.
As geological histories are indicated by rock formations, animal histories by tracks and fossils, cultural histories by artifacts, the landscape includes these elements and more to reflect a philosophy of sorts – one that simultaneously suggests chaos and mystery as well as order and interconnection. Forms and patterns emerge and break down, reflecting the basic creative / destructive cycle of the natural world. I try to indirectly incorporate these ideas into my presentation of the landscape by seeking out those patterns and finding forms in the shadows.

Education
Bachelor of Fine Arts degree, with distinction, University of Alberta, Edmonton AB 1998.
Bachelor of Arts degree, with distinction, Augustana University, Camrose AB, 1988.